Wilson Bethel (born February 24, 1984) is an American actor best known for his role as Wade on the CW series "Hart of Dixie" (with Mircea Monroe). He previously had roles on the CBS daytime soap "The Young and the Restless" and the HBO mini-series "Generation Kill". Wilson appeared on the US Whose Line? on August 6, 2013 and was rather well-received due to his surprisingly fast interaction with the improv games and performers. He has been considered by fans to be one of the best guest stars to appear on the Revival version.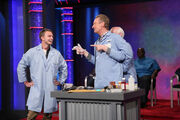 Ad blocker interference detected!
Wikia is a free-to-use site that makes money from advertising. We have a modified experience for viewers using ad blockers

Wikia is not accessible if you've made further modifications. Remove the custom ad blocker rule(s) and the page will load as expected.