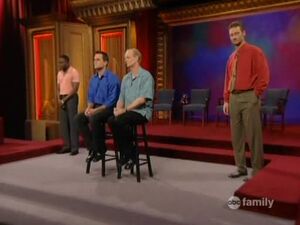 Weird Newscasters (called Weird Newsreaders in the Australian version) is a game in which one performer is the lead anchor of a news broadcast who acts normally, but usually gives a humorous top story, and the other three are the co-anchor, sports reporter (sometimes finance reporter on the British version), and weatherman, and are each given an odd personality or character which they must exhibit.
Appearances
UK
US
Season 3: 8 episodes
Season 4: 9 episodes
Season 5: 5 episodes
Season 6: 3 episodes
Season 7: 3 episodes
Season 8: 3 episodes
Season 9: 3 episodes
Season 10: 6 episodes
Season 11: 6 episodes
Season 12: 3 episodes
AU
Ad blocker interference detected!
Wikia is a free-to-use site that makes money from advertising. We have a modified experience for viewers using ad blockers

Wikia is not accessible if you've made further modifications. Remove the custom ad blocker rule(s) and the page will load as expected.