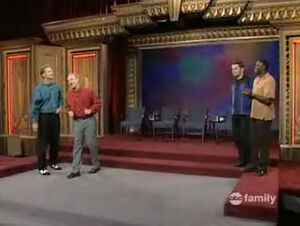 Telethon is a game in which two performers host a telethon for an audience-suggested group of people who normally do not need financial aid (e.g. NBA players), while the two other performers impersonate various musical artists as prompted by the hosts. It's first playing on the British version only required the performers to do one impersonation.
Similar to "Greatest Hits" and "Remember That Song"
Appearances
UK
US
Ad blocker interference detected!
Wikia is a free-to-use site that makes money from advertising. We have a modified experience for viewers using ad blockers

Wikia is not accessible if you've made further modifications. Remove the custom ad blocker rule(s) and the page will load as expected.