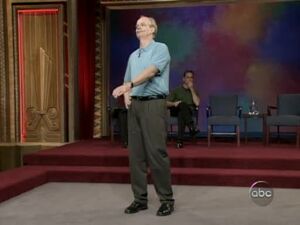 Also see "Sound Effects (with Audience Members)"
Sound Effects is a game in which one performer enacts a given scene while a second, offstage, provides the sound effects vocally, or recorded sound effects play in the background. While the onstage performer spoke in early UK performances, later scenes typically lack any dialogue other than occasional mumbled speech provided by the offstage performer.
Appearances
UK
US
Notes
In early UK playings, Archie Hahn would provide sound effects for another performer. In later UK playings and all US playings, Ryan Stiles provided the sound effects for Colin Mochrie.
Ad blocker interference detected!
Wikia is a free-to-use site that makes money from advertising. We have a modified experience for viewers using ad blockers

Wikia is not accessible if you've made further modifications. Remove the custom ad blocker rule(s) and the page will load as expected.