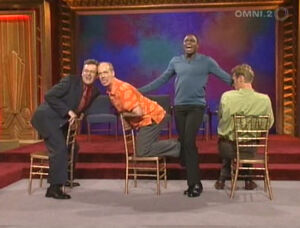 Song Styles is a game in which one performer makes up a song about an audience member or celebrity guest or about an audience-suggested subject. The performer is given a specific style or artist to emulate. Sometimes, the other performers (and on a couple occasions, current US host Aisha Tyler) provide backup vocals or dancing. In early playings, two performers would each be given different songs to sing.
Appearances
UK
US
IAG
Trust Us with Your Life
Variations
Variations on the basic game include:
Ad blocker interference detected!
Wikia is a free-to-use site that makes money from advertising. We have a modified experience for viewers using ad blockers

Wikia is not accessible if you've made further modifications. Remove the custom ad blocker rule(s) and the page will load as expected.