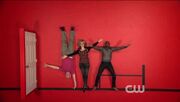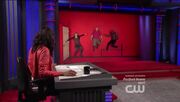 In Sideways Scene, three performers (Wayne Brady, Colin Mochrie, and the 4th performer) act out a scene and different styles are introduced (similar to "Film, TV, and Theater Styles"); however, all this is done lying down on a special floor behind the normal set, with the action displayed via overhead camera on a screen.
The game was only played six times in the 2013 revival version during the 9th season. The game has yet to reappear on the show.
Due to his back problems, Ryan Stiles was unable to participate in this game.