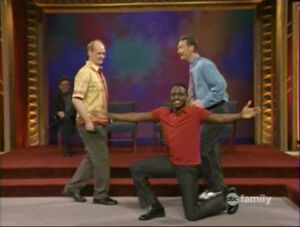 Show-Stopping Number is a game in which three performers enact a scene. Periodically, the host sounds the buzzer, and the last performer to speak must sing a show-stopping tune based on their last line, to pre-recorded music. It is Bob's Call on Drew Carey's Improv-A-Ganza.
Similar to "American Musical" and "Opera"
Appearances
US
IAG
Notes
The scene typically starts with two performers and later the third performer enters and the third show-stopping number is the one that ends the scene.