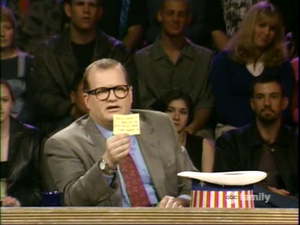 Scenes from a Hat is a game in which the audience submits written suggestions which are placed in a hat. The host then draws from the hat, and any of the four performers, who stand off-stage, may enter and develop that scene.
Since the eleventh season of the American version, host Aisha Tyler started to participate regularly in the game along with the performers.
Appearances
UK
US
AU
Notes
In UK playings, only one response would be given for each suggestion, while in the US, multiple responses from the same or different performers were allowed until the host decided to move on.
In early UK episodes, audience suggestions were mainly places, or situations (e.g.: "naming a baby").
Drew Carey frequently threw the hat after the game, striking a camera in Episode 3-07.
The Hats
Ad blocker interference detected!
Wikia is a free-to-use site that makes money from advertising. We have a modified experience for viewers using ad blockers

Wikia is not accessible if you've made further modifications. Remove the custom ad blocker rule(s) and the page will load as expected.