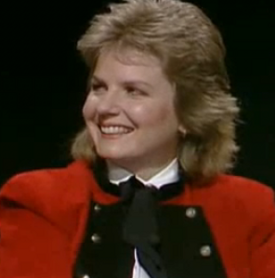 Sandra Brigitte "Sandi" Toksvig (born 3 May 1958) is a Danish/British writer, presenter, comedian, actress and producer on British radio and television. She has appeared as a panelist in comedy shows such as Call My Bluff (a regular as a team captain), I'm Sorry I Haven't A Clue, Whose Line Is It Anyway?, Mock the Week, QI and Have I Got News for You. She appeared in the very first episode of Have I Got News For You in 1990. She was the host of What the Dickens, a Sky Arts quiz show.
Appearances
Ad blocker interference detected!
Wikia is a free-to-use site that makes money from advertising. We have a modified experience for viewers using ad blockers

Wikia is not accessible if you've made further modifications. Remove the custom ad blocker rule(s) and the page will load as expected.