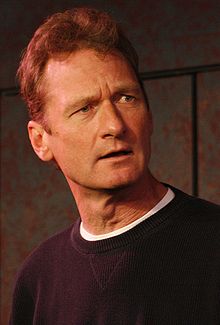 Ryan Lee Stiles (born 22 April 1959) is an American-born Canadian actor, comedian, director, and voice actor whose work is often associated with improvisational comedy.
He is best known for his improv and co-production work on the American version and British version of Whose Line Is It Anyway? and for playing the role of Lewis Kiniski on The Drew Carey Show. He plays the kind but clueless Herb Melnick on the CBS comedy Two and a Half Men (with his Hot Shots co-stars Jon Cryer and Charlie Sheen), and was a performer on the WLIIA? spin-off shows Drew Carey's Green Screen Show and Drew Carey's Improv-A-Ganza. Also, in the 2009 animated film Astro Boy, he played Toby's teacher.
Whose Line
In 1998, Drew Carey successfully lobbied ABC to get an American version of Whose Line? produced. Following the final season of the British version in 1998, the American version premiered, with both Stiles and Carey credited as executive producers. The series was produced until 2006. In 2013, The CW began airing the ninth reboot season.
Appearances
UK
US
Ryan has appeared in all but two episodes of the American version, Episode 10-04 and Episode 10-07. In those two episodes he missed due to illness, Greg Proops filled in for him.
GS
IAG
External Links