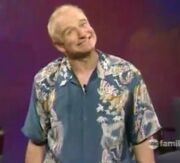 Robin Williams (born July 21, 1951; passed away August 11, 2014) was an Oscar-winning American actor, sitcom star, voice-over artist and stand-up comedian who guest-starred on the American version of Whose Line?. Williams was best known for his roles in films such as Dead Poet's Society, Aladdin, The Fisher King, Mrs. Doubtfire, Jumanji, Jack, Good Will Hunting and Insomnia.
For his appearance on the show, Williams ended up earning 1,000 points.[1]
Ad blocker interference detected!
Wikia is a free-to-use site that makes money from advertising. We have a modified experience for viewers using ad blockers

Wikia is not accessible if you've made further modifications. Remove the custom ad blocker rule(s) and the page will load as expected.