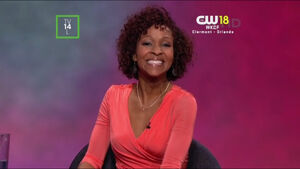 Nyima Funk is an improv comedian, impressionist, and actress. She is a Second City alum from the Chicago and Detroit resident stages.  Her television credits include: Comedy Central's Key & Peele (with series regular Keegan-Michael Key), NBC's Thank God You're Here, MTV's Wild 'N Out and Short Circuitz, TNN's LifeGame, VH1's Basketball Wives LA, ABC's According To Jim, UPN's Girlfriends, The Oprah Winfrey Show, TV Guide Channel's Countdown Shows, and The George Lopez Show.  She has also done extensive voiceover work for the Style Network's Style Star and numerous national commercials. She also worked as a writer for comedian Katt Williams, writing for the movie Katt Williams: American Hustle and The BET Hip Hop Awards.
She is also performing live at Second City Hollywood with THE 313 and at The Groundlings Theater with The Black Version.  She also hosts a weekly vlog on YouTube: Nyima Funk's Mommy Vlog's. Nyima currently resides in Los Angeles with her husband Joshua, and their two children daughter Ziza and son Moze.
Nyima once removed her shoes and played "Sideways Scene" in her bare feet. She departed Whose Line is it Anyway? after the 10th season due to being pregnant.
Appearances
Ad blocker interference detected!
Wikia is a free-to-use site that makes money from advertising. We have a modified experience for viewers using ad blockers

Wikia is not accessible if you've made further modifications. Remove the custom ad blocker rule(s) and the page will load as expected.