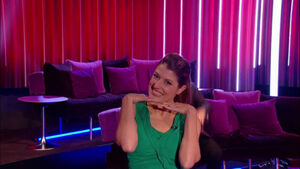 Nicole Frances Parker (born 21 February 1978, Irvine, California) is an American actress and comedian. She is best known for her stint on the sketch series MAD TV where she impersonated several pop stars, talk show hosts, and other female celebrities. She was best known to the Broadway crowds for her portrayal of Elphaba in the still running production Wicked, and was one of the guest improv performers on the short-lived Whose Line? spin-off Trust Us with Your Life where she, Wayne Brady, and Jonathan Mangum reenacted the life of David Hasselhoff.
Appearances
Trust Us with Your Life
Ad blocker interference detected!
Wikia is a free-to-use site that makes money from advertising. We have a modified experience for viewers using ad blockers

Wikia is not accessible if you've made further modifications. Remove the custom ad blocker rule(s) and the page will load as expected.