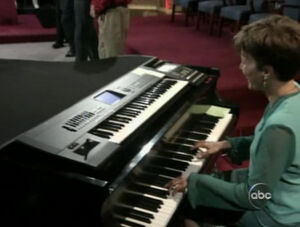 The Moving Hoedown is an edition of "Hoedown" from the American version of Whose Line. It was performed in Episode 6-04 by Greg Proops, Drew Carey, Colin Mochrie and Ryan Stiles.
Lyrics
Greg:
Oh, I work for a mover, right here in Hollywood.
I pull up my truck, and you know it's all good.
I had to move Drew Carey, and it was real queer.
He didn't have no belongings, just a million cans of beer.

Drew:
Last September, I had a stressful day.
I had to pack my stuff and move away.
But one thing wrong, oh man.
I couldn't fit my fat ass in the van.

Colin:
I had to help a friend move, he worked in the coal mines.
Because of doctor's orders, he had to move to warmer climes.
It really turned out badly, I know I shouldn't whine,
But I was arrested for transporting a minor over the state line.

Ryan:
Maybe this is the hoedown, I'll do real good this time.
Hey, this is easy, I'm really starting to rhyme.
It's going great, boy, I hope I have some luck,
'Cause last time, I messed up and said a word that rhymes with duck.

All:
A word that rhymes with duck!