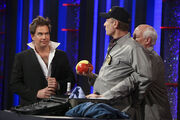 Michael Manning Weatherly Jr. (born July 8, 1968 in New York City, NY) is an American actor, writer, singer, and director. He is best known for his roles as Special Agent Anthony DiNozzo on the television series "NCIS". Prior that he was known as Logan Cale on the television series "Dark Angel".
On April 11, 2014, he guest-starred on the American Whose Line? and despite his best efforts, he couldn't stop from laughing during two of the skits he was featured in.
Ad blocker interference detected!
Wikia is a free-to-use site that makes money from advertising. We have a modified experience for viewers using ad blockers

Wikia is not accessible if you've made further modifications. Remove the custom ad blocker rule(s) and the page will load as expected.