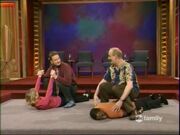 In Living Scenery, two performers enact a given scene. The other two performers or special guests stand in for props during the scene. This often results in the human props being put in very suggestive situations.
Since the 9th season, one performer (mainly Wayne Brady or the 4th performer) and the special guest would be the human props.
Appearances
Season 4: 4 episodes
Season 5: 7 episodes
Season 6: 1 episode
Season 7: 1 episode
Season 9: 6 episodes
Season 10: 9 episodes
Season 11: 7 episodes
Season 12: 7 episodes
Total: 43
Ad blocker interference detected!
Wikia is a free-to-use site that makes money from advertising. We have a modified experience for viewers using ad blockers

Wikia is not accessible if you've made further modifications. Remove the custom ad blocker rule(s) and the page will load as expected.