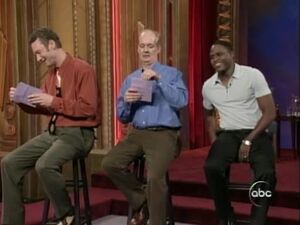 Let's Make a Date is a game in which one performer is the contestant on a dating-type show. The other three performers are the possible dates who are given odd personalities or characters via envelopes. Following one or two rounds of questioning, the contestant must try to guess who the others are.
Similar to "Party Quirks"
Appearances
UK
US
AU
Ad blocker interference detected!
Wikia is a free-to-use site that makes money from advertising. We have a modified experience for viewers using ad blockers

Wikia is not accessible if you've made further modifications. Remove the custom ad blocker rule(s) and the page will load as expected.