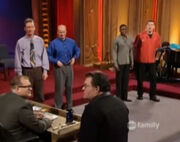 Keith Richmond has worked on various shows as a stage manager, segment producer, and first assistant director. Most of his career was spent as a stage manager which included the American version of Whose Line?. He appears in the 27th episode of Season 4 where he notably asks Drew Carey and the gang to reconsider a segment that originally was meant to include imitations of Bill Cosby and Adolf Hitler.
Ad blocker interference detected!
Wikia is a free-to-use site that makes money from advertising. We have a modified experience for viewers using ad blockers

Wikia is not accessible if you've made further modifications. Remove the custom ad blocker rule(s) and the page will load as expected.