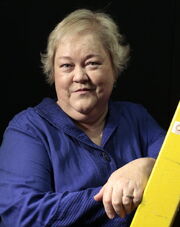 Kathy Kinney (born November 3, 1954) is an American actress and comedian best known for her recurring roles on sitcoms such as Newhart and The Drew Carey Show (with Ryan Stiles), the latter of which she played Drew Carey's arch-nemesis, Mimi.
Kinney later appeared on one episode of the American version of Whose Line? Her character Mimi was even mocked a few times.
She later reappeared with the Whose Line? gang on the short-lived series Drew Carey's Green Screen Show as well as  Improv-A-Ganza show on the Game Show Network (GSN).
On April 1, 2009 and April 1, 2010, Kathy appeared on the game show The Price Is Right (currently hosted by Drew Carey) reprising her Mimi role for April Fools.
Ad blocker interference detected!
Wikia is a free-to-use site that makes money from advertising. We have a modified experience for viewers using ad blockers

Wikia is not accessible if you've made further modifications. Remove the custom ad blocker rule(s) and the page will load as expected.