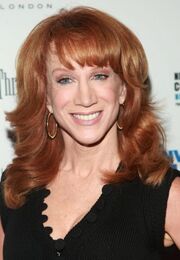 Kathy Griffin (born November 4, 1960) is an American television personality who appeared as a recurring performer on the American version of Whose Line Is It Anyway?.
She is the host of Bravo's My Life on the D-List and has done stand-up comedy. For her appearance on Whose Line?, she ended up winning 5,000 points [1].
Ad blocker interference detected!
Wikia is a free-to-use site that makes money from advertising. We have a modified experience for viewers using ad blockers

Wikia is not accessible if you've made further modifications. Remove the custom ad blocker rule(s) and the page will load as expected.