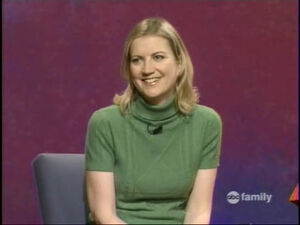 Kathy Greenwood (born 21 March 1962) is a Canadian television personality. She played Grace Bailey on the Canadian television drama series Wind at My Back. She did stints in the comedy troupes Second City, Not to Be Repeated, and Women Fully Clothed, and appeared in This Hour Has 22 Minutes and Royal Canadian Air Farce.
She was named winner of Episode 4-02 of Whose Line, though due to editing she had no lines in that episode.
Appearances
Ad blocker interference detected!
Wikia is a free-to-use site that makes money from advertising. We have a modified experience for viewers using ad blockers

Wikia is not accessible if you've made further modifications. Remove the custom ad blocker rule(s) and the page will load as expected.