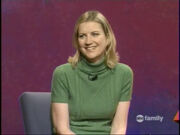 Kathy Greenwood (born 21 March 1962) is a Canadian television personality who has appeared as a recurring performer on the American version of Whose Line Is It Anyway? from seasons 2-8. She earned 59,810 points total for her Whose Line? appearances. [1]
She has been considered by many fans to be the weakest performer on the American version of the show and was openly disliked by the other performers. In one episode, Drew Carey named her as the winner of that episode, but she didn't say one word during the entire episode which caused outrage with fans. Due to her unpopularity, she hasn't appeared on the CW Revival version.
Ad blocker interference detected!
Wikia is a free-to-use site that makes money from advertising. We have a modified experience for viewers using ad blockers

Wikia is not accessible if you've made further modifications. Remove the custom ad blocker rule(s) and the page will load as expected.