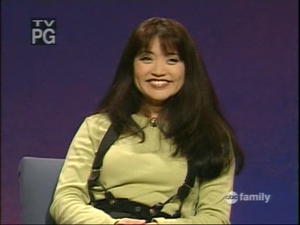 Karen Maruyama (born 29 May 1958) is an American actress and comedian. She has appeared in movies such as Pulp Fiction (with Phil LaMarr and Kathy Griffin), The American President, The Bucket List (with Jonathan Mangum), and 2012's The Campaign. She has appeared in numerous cartoon shows and animated films in addition to recurring TV roles on The Jamie Foxx Show, Ghost Whisperer (with Aisha Tyler), and Arrested Development.
Appearances
UK
US
Ad blocker interference detected!
Wikia is a free-to-use site that makes money from advertising. We have a modified experience for viewers using ad blockers

Wikia is not accessible if you've made further modifications. Remove the custom ad blocker rule(s) and the page will load as expected.