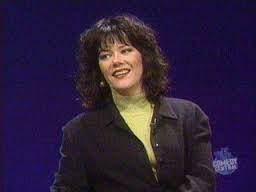 Josie Lawrence (born Wendy Lawrence, 6 June 1959) is an English comedian and actress best known for her work with the Comedy Store Players improvisational troupe, the television series Whose Line Is It Anyway? and more recently, her role as Manda Best in EastEnders. 
Lawrence came to public attention as a regular guest on the Channel 4 improvisational comedy series Whose Line Is It Anyway? at its launch in 1988. A talented singer, Lawrence's specialty on Whose Line was her ability to improvise songs on the spot. She was the first female performer to regularly perform and featured on the show until 1997, which was the final UK series to be made in London. She also performed in two episodes of the American version of the show in 1999, making her the first and only English-born performer from the original British version to appear on the American version.
Appearances
UK
US
Trust Us with Your Life
Ad blocker interference detected!
Wikia is a free-to-use site that makes money from advertising. We have a modified experience for viewers using ad blockers

Wikia is not accessible if you've made further modifications. Remove the custom ad blocker rule(s) and the page will load as expected.