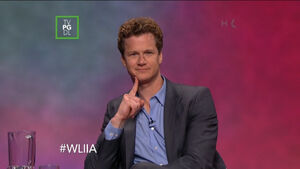 Jonathan Mangum (born 16 January 1971) is an American improv comedian who has been doing Improv acts in Los Angeles since 1995 with the likes of Wayne Brady and Drew Carey.
Mangum has guest-starred on TV shows such as Married with Children, Just Shoot Me!, ER, Reno 911!, The Sarah Silverman Program, Pushing Daisies, and NCIS (with Michael Weatherly). He had recurring roles on sitcoms and sketch shows such as Strip Mall, The Wayne Brady Show (on which he was also a contributing writer), The Drew Carey Show (with co-stars Ryan Stiles and Kathy Kinney), Drew Carey's Green Screen Show, Drew Carey's Improv-A-Ganza, and most recently the American version of Whose Line is it Anyway? since the 9th season on the CW run.
Mangum also appeared in films such as The Bucket List (with Karen Maruyama), The Revenant, and The House at the End of the Drive.
Appearances
US
GS
IAG
Fast and Loose
Trust Us with Your Life