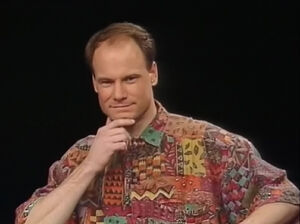 James Ross "Jim" Meskimen (born 10 September 1959) is an American stand-up comedian, actor, impressionist, voice artist, and comedian. He is known for his work on the British version of Whose Line Is It Anyway?
Personal Life
Meskimen was born in Los Angeles, California, the son of Freeman Meskimen and Marion Ross. In 1987, Meskimen married Tamra Shockley. Together, they have a daughter named Taylor, born 1990.
Career
Meskimen portrayed the father of Mary-Kate and Ashley Olsen's characters in Our Lips Are Sealed. He also had recurring roles on shows such as The Fresh Prince of Bel-Air and Pinky and the Brain. He has often appeared in many movies where he co-starred with John Travolta or which were directed by Ron Howard. He has also portrayed or voiced various politicians (fictional or real) including on the parody site Jib Jab in addition to also impersonating various pop culture icons in voice-over or live-action fashion.
Meskimen was also a contestant on season eight of America's Got Talent. He has also toured various U.S. cities performing a one-man act of celebrity impersonations and original characters entitled Jimpressions.
Appearances