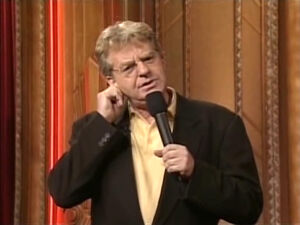 Gerald Norman "Jerry" Springer (born 13 February 1944) is an English-born American television presenter, best known as host of the tabloid talk show, The Jerry Springer Show since its debut in 1991. He is a former Democratic mayor of Cincinnati, Ohio, as well as a news anchor, actor, and musician.
Appearances
US
Trust Us with Your Life
Gallery
Ad blocker interference detected!
Wikia is a free-to-use site that makes money from advertising. We have a modified experience for viewers using ad blockers

Wikia is not accessible if you've made further modifications. Remove the custom ad blocker rule(s) and the page will load as expected.