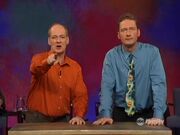 In Infomercial, two performers are presenters in an infomercial selling "miracle" solutions for a given personal problem. The performers are given a box of unusual props which they must use as products they are selling, or in demonstrations. Similar games include "Greatest Hits" and "Home Shopping".
Appearances
Season 3: 2 episodes
Season 4: 4 episodes
Season 5: 3 episodes
Season 7: 3 episodes
Season 10: 1 episode
Season 12: 2 episode
Total: 15
Ad blocker interference detected!
Wikia is a free-to-use site that makes money from advertising. We have a modified experience for viewers using ad blockers

Wikia is not accessible if you've made further modifications. Remove the custom ad blocker rule(s) and the page will load as expected.