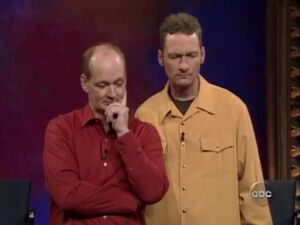 Improbable Mission or Mission: Impossible is a game in which two or three performers are Mission: Impossible-style secret agents. Another performer is the voice on tape who gives them their assignment. The assignment is a mundane task (washing a car, getting dressed, etc.) which is carried out in an exaggeratedly intense, dangerous, and difficult manner. After the mission is defined by the voice on tape, suspenseful background music is played.
Appearances
UK
US
Ad blocker interference detected!
Wikia is a free-to-use site that makes money from advertising. We have a modified experience for viewers using ad blockers

Wikia is not accessible if you've made further modifications. Remove the custom ad blocker rule(s) and the page will load as expected.