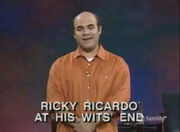 Ian Gomez (born December 27, 1964 in NYC, New York, USA) is an American actor best known for his comedic TV work, the most notable of which are his series-regular stints as Danny Sanchez on "Norm", Larry Almada on "The Drew Carey Show", Javier on "Felicity" and currently as Andy on "Cougar Town". He guest-starred on two episodes of the American Whose Line? program (the second episode was actually just a reedited cut of the previous airing) and is married to his My Big Fat Greek Wedding star and writer Nia Vardalos.
Ad blocker interference detected!
Wikia is a free-to-use site that makes money from advertising. We have a modified experience for viewers using ad blockers

Wikia is not accessible if you've made further modifications. Remove the custom ad blocker rule(s) and the page will load as expected.