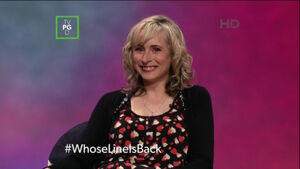 Heather Anne Campbell (born 1979) is an Emmy-nominated writer for the 2011 season of the long-running sketch show series Saturday Night Live, and since 2010 has been a member of Drew Carey's Improv group. She has made various guest appearances on Improv-A-Ganza and on the 2013 version of Whose Line is it Anyway? since season 9 on the CW run.
Appearances
US
IAG
Ad blocker interference detected!
Wikia is a free-to-use site that makes money from advertising. We have a modified experience for viewers using ad blockers

Wikia is not accessible if you've made further modifications. Remove the custom ad blocker rule(s) and the page will load as expected.