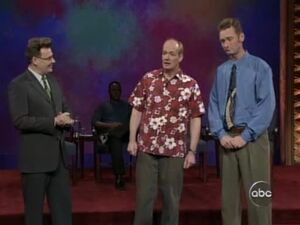 Funeral is a game in which three or four performers act out a scene at a funeral for a person with an audience-provided name and occupation, who died in a job-related freak accident. One performer usually takes the role of the funeral director, with the remaining performers being associated with the deceased in some way. After briefly eulogizing, the performers sing an elegy all at once.
Similar to "All in One Voice", "Reunion", and "Wedding"
Appearances
UK
US
Ad blocker interference detected!
Wikia is a free-to-use site that makes money from advertising. We have a modified experience for viewers using ad blockers

Wikia is not accessible if you've made further modifications. Remove the custom ad blocker rule(s) and the page will load as expected.