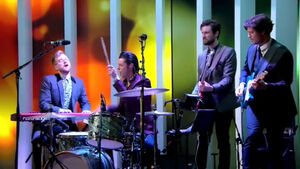 Fourplay with Judy is the first and most widely-known fictitious name of the house band of the Australian version of Whose Line Is It Anyway? In a running gag, host Tommy Little introduced the band with a different name in every episode.
Leading the band and playing drums is Kit Warhurst, best known as the drummer in seminal Australian group Rocket Science.
Appearances
AU Season 1 episodes:
Ad blocker interference detected!
Wikia is a free-to-use site that makes money from advertising. We have a modified experience for viewers using ad blockers

Wikia is not accessible if you've made further modifications. Remove the custom ad blocker rule(s) and the page will load as expected.