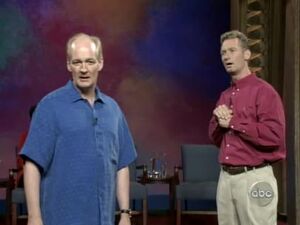 Film Noir or Narrate is a game in which two performers enact a scene based in an audience-suggested location. The scene takes a film noir style, both in content and mood, as well as by breaking the fourth wall to approach the camera and narrate. Appropriate pre-recorded music is played during the scene.
Appearances
UK
US
Background music
References
Ad blocker interference detected!
Wikia is a free-to-use site that makes money from advertising. We have a modified experience for viewers using ad blockers

Wikia is not accessible if you've made further modifications. Remove the custom ad blocker rule(s) and the page will load as expected.