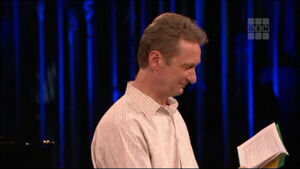 Every Other Line or Playbook or Mixed Messages is a game in which one performer acts freely while another is given a book or play. That performer responds to the first by reading every other line of the work. In the British version, the performer who is not reading must end the scene with an audience-suggested line. In "Mixed Messages", audience members' text messages are used instead of a playbook.
Appearances
Radio
UK
US
IAG
Notes
The version using audience members' text messages was played frequently in tapings of the Australian version but did not make it into any episodes. At least ten playings, labeled "Playbook", were posted on the website.
In the American version, there are three people in the scene. Two people have phones and the third person talks freely.