Whose Line Is It Anyway?



Air date

September 3, 2013

Season

Episode #

10

Previous

Next
Cast
Host: Aisha Tyler
Performers:
Special Guest:

"From the hit TV show about a badass assassin, Nikita herself": Maggie Q
The Points Don't Matter, Just Like...
"Welcome back to Whose Line Is It Anyway? The show where everything is made up and the points don't matter. That doesn't keep me from lording them over everyone like a jerk."
"You can spend all your points at the company store. The exchange rate is 10 to nothing."
Games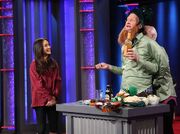 Winner
Credits
Nyima is a heavily-pregnant woman and Colin is her husband discussing possible baby names.
Notes
This episode is rated "TV-14-L".
Production #109.
"#WLIIA" during the first 20 seconds of the episode.
"#KissOff" during the last 15 seconds of Dubbing.
"#NewsFlash" during the first 20 seconds of Newsflash.
"#MushyPeas" for 20 seconds during Helping Hands.
Ad blocker interference detected!
Wikia is a free-to-use site that makes money from advertising. We have a modified experience for viewers using ad blockers

Wikia is not accessible if you've made further modifications. Remove the custom ad blocker rule(s) and the page will load as expected.