Whose Line Is It Anyway?



Air date

August 20, 2013

Season

Episode #

8

Previous

Next
Cast
The Points Don't Matter, Just Like...
Games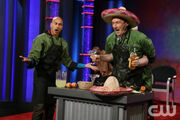 Winner
Credits
Wayne and Keegan are two grandfathers bitching about their no-good families.
Notes
This episode is rated "TV-14-D".
The title for this episode is listed as "Keegan Michael-Key".
Production #105.
This episode was originally scheduled to debut on August 13, 2013.[1]
"#NiceWigs" during the first 15 seconds of Questions With Wigs.
"#TacoBall" for 27 seconds during Helping Hands.
References
Ad blocker interference detected!
Wikia is a free-to-use site that makes money from advertising. We have a modified experience for viewers using ad blockers

Wikia is not accessible if you've made further modifications. Remove the custom ad blocker rule(s) and the page will load as expected.