Whose Line Is It Anyway?



Air date

August 13, 2013

Season

Episode #

7

Previous

Next
Cast
The Points Don't Matter, Just Like...
Games
Weird Newscasters

Colin is the anchor of a news program.

Heather (co-anchor): Ditzy beautician taking the opportunity to promote her waxing salon.
Wayne (sports): Appearing on "Girls Gone Wild," getting increasingly outrageous.
Ryan (weather): Moonlighting as a phone sex operator and keeps taking calls during his report.

Song Styles

Wayne sings a song about Lisa Leslie in the style of Justin Timberlake.

Newsflash

Ryan and Heather are news anchors in the studio, Colin is in the field reporting on dental surgery.

What's In the Bag?

Wayne is biking through a forest when he crashes painfully. Ryan and Colin are two paramedics who rush to his aide, using what's in Elizabeth & Susan's purses.
Living Scenery

Ryan and Colin are a honeymooning couple making the most of their first class flight, when the plane hits a big storm and is forced to make an emergency landing in the ocean, with Heather and Lisa Leslie standing in as the props.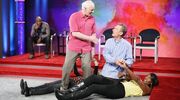 Winner
Credits
Wayne, Heather, Colin and Ryan read the credits while basketball coach Lisa Leslie gives them a pre-game pep talk.
Notes
This episode is rated "TV-14-D".
Production #104.
This episode was originally scheduled to debut on August 6, 2013.[1]
"#SingLikeWayne" for 10 seconds during Song Styles.
"#DentalFears" for 20 seconds during Newsflash.
References
Ad blocker interference detected!
Wikia is a free-to-use site that makes money from advertising. We have a modified experience for viewers using ad blockers

Wikia is not accessible if you've made further modifications. Remove the custom ad blocker rule(s) and the page will load as expected.