Whose Line Is It Anyway?



Air date

July 30, 2013

Season

Episode #

5

Previous

Next
Cast
The Points Don't Matter, Just Like...
Games
Hollywood Director

Colin is the director giving notes to Jeff, Ryan, and Wayne.
The scene: Ryan and Jeff play two criminals cutting through an electrified barbed-wire fence to break into a warehouse. Wayne is a security guard who arrives in a Jeep full of guard dogs to stop them.
Colin's directions:

Do it like frat boys.
Do it sexy.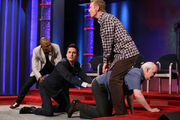 Winner
Credits
Notes
This episode is rated "TV-PG-D".
The title for this episode is listed as "Synchronized Swimmers".
Production #102.
"#WLIIA" during the first 30 seconds of the episode.
"#NakedWayne" for 10 seconds during Hollywood Director.
"#SwimGirls" for 10 seconds during Duet.
"#ForwardRewind" during the first 10 seconds of Forward Rewind.
Ad blocker interference detected!
Wikia is a free-to-use site that makes money from advertising. We have a modified experience for viewers using ad blockers

Wikia is not accessible if you've made further modifications. Remove the custom ad blocker rule(s) and the page will load as expected.