Whose Line Is It Anyway?



Air date

July 23, 2013

Season

Episode #

3

Previous

Next
Cast
The Points Don't Matter, Just Like...
"Looking for a vegetarian restaurant in Texas." (midway though the show)
Games
Hollywood Director

Colin is the director giving notes to Keegan, Ryan and Wayne.
The scene: Ryan is on a space station examining an alien life form with his android assistant, Keegan. Wayne is the mother alien who bursts in to attack them.
Colin's directions:
Props

Ryan and Keegan versus Wayne and Colin.


Song Styles

Wayne sings a song about Candice Accola in the style of Latin Pop.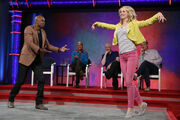 Dating Profiles

Ryan and Colin, Wayne and Keegan come up with examples of world's worst dating profile.

Living Scenery

Ryan and Colin are two intrepid mountaineers facing various obstacles in a bid to reach the summit of Mount Everest with Keegan and Candice Accola standing in as the props.
Winner
Credits
Wayne, Keegan, Colin, Ryan, and Candice Accola read the credits as high school students discussing which of their friends are vampires.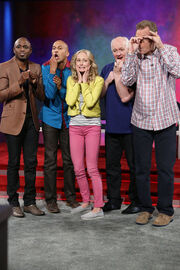 Notes
This episode is rated "TV-14-DL".
Production #106.
"#WLIIA" during the first 30 seconds of the episode.
"#AlienDrama" during the last 40 seconds of Hollywood Director.
"#GoCandice" during the first 35 seconds of Song Styles.
"#CreepyDates" during the first 30 seconds of Dating Profiles.
"#LivingScenery" during the first 30 seconds of Living Scenery.
Ad blocker interference detected!
Wikia is a free-to-use site that makes money from advertising. We have a modified experience for viewers using ad blockers

Wikia is not accessible if you've made further modifications. Remove the custom ad blocker rule(s) and the page will load as expected.