Whose Line Is It Anyway?



Air date

July 16, 2013

Season

Episode #

2

Previous

Next
Cast
The Points Don't Matter, Just Like...
Games
Scenes from a Hat

Scenes:

Things you shouldn't say right after sleeping with someone for the very first time.
Lines you wouldn't hear in a weight loss commercial.
Things you can say about your favorite pair of shoes, but not about your partner.
Bad things to say when you're running for office.

Song Styles

Wayne sings a gospel to/with Kevin McHale.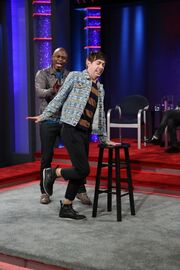 Dubbing

Ryan and Wayne perform a "Glee"-like scene with Kevin McHale, but Colin provides Kevin's voice.
Sideways Scene

Wayne, Colin and Heather perform on the magic mat. James Bond (Colin) seduces a beautiful Russian spy (Heather) in a hotel room when an acrobatic master criminal (Wayne) enters to attack them. In the styles of:

Poltergeist film
Cirque du Soleil

Helping Hands

Kevin McHale plays a tourist who comes across carny Ryan, whose hands are provided by Colin.
Winner
Credits
Wayne, Ryan, Colin, and Kevin McHale read the credits as a glee club preparing for a show.
Notes
This episode is rated "TV-PG-D."
Production #103.
Aisha Tyler coincidentally also guest-starred on the TV show Glee
"#WhoseLineIsBack" during the first minute of the episode.
"#WayneGoneGospel" during Song Styles.
"#NiceCatchKevin" during Helping Hands.
Ad blocker interference detected!
Wikia is a free-to-use site that makes money from advertising. We have a modified experience for viewers using ad blockers

Wikia is not accessible if you've made further modifications. Remove the custom ad blocker rule(s) and the page will load as expected.