Whose Line Is It Anyway?



Air date

July 16, 2013

Season

Episode #

1

Previous

Next
Cast
The Points Don't Matter, Just Like...
Games
Let's Make a Date

Wayne, Colin, and Ryan are contestants hoping to be picked by Gary.

Wayne: Shock Jock Radio DJ on air with his posse.
Colin: Love Robot who is recharged by kissing people.
Ryan: Colin's bickering parents who are trying to teach him the facts of life.

Dubbing

Ryan and Wayne perform a scene about zombies with Lauren Cohan, but Colin provides Lauren's voice.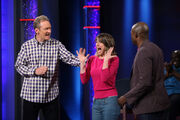 What's In the Bag?

Crime victim Wayne regains consciousness as detectives Ryan and Colin arrive to investigate the crime scene with the help of what's in audience members Katrina & Sherry's handbags.

Scenes from a Hat

Scenes:

Things you can say about your lunch, but not your girlfriend.
Things you don't want to hear just before moving in for a kiss.
Unlikely lines from hair commercials.

Living Scenery

Ryan and Colin are at a luxury Aspen retreat with Wayne and Lauren Cohan standing in as the props.
Winner
Credits
Colin and Lauren Cohan read the credits with Ryan, Wayne, and Gary (and others from the studio audience) turning into zombies.
Notes
This episode is rated "TV-14-DL."
First episode shown on The CW network.
First episode shown in high definition.
First episode hosted by Aisha Tyler.
First episode to display hashtags during the episode.
Production #111.
"#WhoseLineIsBack" during the first minute of the episode.
"#Bromance" after Colin kisses Ryan during Let's Make a Date.
"#WhatsInTheBag" during the first 10 seconds of What's In The Bag?
"#ScenesFromAHat" during the first 10 seconds of Scenes From a Hat.
"#LivingScenery" during the first 10 seconds of Living Scenery.
Ad blocker interference detected!
Wikia is a free-to-use site that makes money from advertising. We have a modified experience for viewers using ad blockers

Wikia is not accessible if you've made further modifications. Remove the custom ad blocker rule(s) and the page will load as expected.