Whose Line Is It Anyway?



Air date

June 27, 2003

Season

Episode #

610

Previous

Next
Cast
The Points Don't Matter, Just Like...
"Whether your porn is on DVD or VHS."
Games
Newsflash

Kathy and Ryan are newscasters in a studio and Colin is a field reporter.
The backdrop: Rats scurrying everywhere.

Song Styles

Wayne sings a song to David Hasselhoff in the style of gospel, as the other performers provide backup.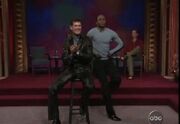 Two Line Vocabulary

Colin is Indiana Jones and Ryan and Kathy are his two sidekicks. They're looking for the Holy Grail in an ancient temple full of dangerous traps.
Ryan can only say "What does that do?" and "I want out."
Kathy can only say "I love this" and "Are you kidding?"

Dubbing

David Hasselhoff perform a scene with Ryan and Colin. Wayne dubs all of David's words.
The scene: Colin is a beautiful woman who's gone swimming and is in trouble. Hunky lifeguard David Hasselhoff comes to her rescue. Just then, Colin's boyfriend Ryan arrives, determined to show that he is the hunkiest and fittest lifeguard on the beach.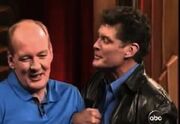 Three-Headed Broadway Star

Wayne, Ryan, and David Hasselhoff sing a Broadway song to audience member Venus. The first line of the song is, "I can't live without your mother."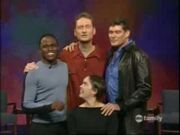 Winner
Credits
David Hasselhoff and the performers read the credits as Baywatch lifeguards running in slow-motion to save the people in the credits.
Notes
Baywatch star David Hasselhoff appeared as a special guest.
Ad blocker interference detected!
Wikia is a free-to-use site that makes money from advertising. We have a modified experience for viewers using ad blockers

Wikia is not accessible if you've made further modifications. Remove the custom ad blocker rule(s) and the page will load as expected.