Good evening and welcome to Whose Line Is It Anyway? On tonight's show:
I'm your host, Drew Carey. Come on down. Let's have some fun.
The Points
Don't matter, just like...

Jerry Springer's final thought
The other guy from Wham!
A stop sign at three in the morning
Games
Superheroes

Crisis: We're out of deodorant

Greg - Armpit Man
Ryan - Fashion Photographer Kid
Colin - Professor Panic
Wayne - Captain Does the Splits at Every Moment He Can
Song Styles

Singer: Wayne
About: Delores, a retired junior high school secretary who likes to garden
Style: Michael Jackson getting older
Newsflash

Newsanchors: Ryan and Greg
Field reporter: Colin
On the green screen: Chinese nuclear test site
Winners
Ryan and Wayne

Get to do a game with Drew
Credits
Ryan and Wayne read the credits like teenage girls at a slumber party
Notes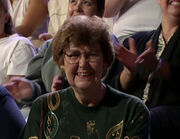 Presuming she'd want to win, Delores from "Song Styles" is the all-time points winner, since she received one point to plant and grow a big point tree so she could have as many points as she wanted for the rest of her life.
Gallery