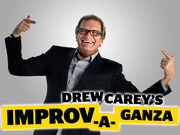 Drew Carey's Improv-A-Ganza was a WLIIA? spin-off that aired during the spring and summer of 2011 on the cable network GSN (Game Show Network). Much like the short-lived Drew Carey's Green Screen Show (2004-2005), it was hosted by Drew Carey (who had since improved his Improv skills), featured all of the US main cast as well as recurring stars Greg Proops, Brad Sherwood, Chip Esten and Jeff Davis. 
The show also featured guest appearances by celebs such as Charlie Sheen (who co-starred with Ryan Stiles in the Hot Shots parody films and CBS sitcom Two and a Half Men) and Kathy Kinney and introduced other improv talent like Heather Anne Campbell and reintroduced Jonathan Mangum, who had done the non-broadcast Whose Live? shows with the WLIIA? crew for years in Las Vegas and later joined the 2013 reboot of the US show version.
The show had all of its episodes broadcast online both the network's official site and it's YouTube channel and despite critical praise and heavy promotion, was cancelled due to low ratings.
Ad blocker interference detected!
Wikia is a free-to-use site that makes money from advertising. We have a modified experience for viewers using ad blockers

Wikia is not accessible if you've made further modifications. Remove the custom ad blocker rule(s) and the page will load as expected.