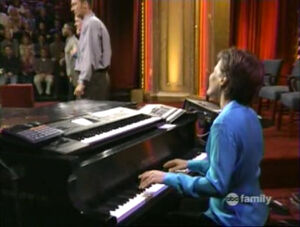 The Director Hoedown is an edition of the Hoedown game from the American version of Whose Line Is It Anyway? It was performed in Episode 4-27 by Wayne Brady, Drew Carey, Colin Mochrie, and Ryan Stiles.
Lyrics
Wayne:
I moved to Hollywood to see if I could act,
About five years ago to this day to be exact.
I thought being a director, it would be groovy.
My first directing job was in a homemade Drew porno movie.

Drew:
My first directing job, it was really great.
Fans lined up to see it; they can really wait.
It is was really... da bomb.
It was a porno movie starring Wayne's mom.

Colin:
I'm a big director I keep egos in check.
Stars rave and rant at me, but I think, "What the heck?"
Nothing really scares me. I know no fear.
Nothing scares me since Ryan licked my ear.

Ryan:
Our director he really is the boss.
For yelling and screaming he's never at a loss.
He's the meanest guy that you will ever see.
He should sprout a mustache and move to Germany.

All:
Move to Germany!
Notes
Ryan's comparison of the director to Adolf Hitler is the climax of a running gag. Due to the cast not being allowed to make reference to Hitler by the censors during that episode's edition of "Title Sequence" (the title Cosby and Hitler was changed to Cosby and the Insurance Salesman), the performers made frequent reference to Hitler in other sketches while Drew repeatedly pointed out the production crew's willingness to let stereotypical humor slide, "but whatever you do, don't [censored] make fun of Hitler."