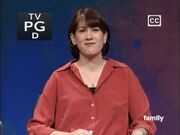 Denny Siegel is an American TV personality who appeared as a recurring performer on the American version of Whose Line Is It Anyway?.
She has earned 1,059,560 points from all of her Whose Line? appearances. [1]
She appeared regularly during the first two seasons. She later returned in the 6th season for one episode and three episodes in the 8th season. (However, her appearances in season 6 & 8 were from unaired episodes originally produced for seasons 1 & 2)
Ad blocker interference detected!
Wikia is a free-to-use site that makes money from advertising. We have a modified experience for viewers using ad blockers

Wikia is not accessible if you've made further modifications. Remove the custom ad blocker rule(s) and the page will load as expected.