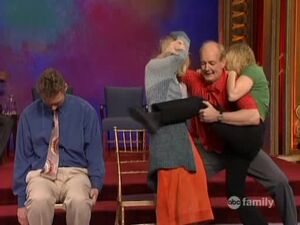 Dead Bodies or Fainting Bodies is a game in which one performer acts out a given scene while the rest of the performers in the scene act as if they are dead or unconscious. The performer must physically move the others, including their mouths, and say their lines for them. An additional performer joins the scene partway through and quickly dies or faints.
Appearances
UK
US
AU
Notes
In the British version, two "dead" performers begin in the scene with the third, while in the American version from seasons 1-8, it is one performer and one audience member, and since season 11, it is the guest star in place of an audience member.
Ad blocker interference detected!
Wikia is a free-to-use site that makes money from advertising. We have a modified experience for viewers using ad blockers

Wikia is not accessible if you've made further modifications. Remove the custom ad blocker rule(s) and the page will load as expected.