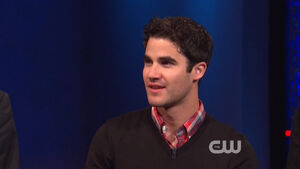 Darren Everett Criss (born 5 February 1987) is an American actor, singer-songwriter, multi-instrumentalist, and composer. One of the founding members and co-owners of StarKid Productions, a musical theater company based in Chicago, Illinois, Criss first garnered attention playing the lead role of Harry Potter in StarKid's musical production of A Very Potter Musical.
Criss is best known for his portrayal of Blaine Anderson, an openly gay student, on the Fox musical comedy-drama series Glee (with Kevin McHale).
Appearances
Ad blocker interference detected!
Wikia is a free-to-use site that makes money from advertising. We have a modified experience for viewers using ad blockers

Wikia is not accessible if you've made further modifications. Remove the custom ad blocker rule(s) and the page will load as expected.