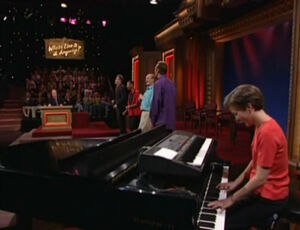 The Colin Hoedown is an edition of the "Hoedown" game from the British version of Whose Line. It was performed in UK Episode 10-02 by Greg Proops, Phil LaMarr, Colin Mochrie and Ryan Stiles.
Lyrics
Greg:
(laughs) I'm shocked...
I love to sing like Colin. I really, really do.
I really, really, really, really, really, really do.
And when I sing like Colin, it makes me have great joy,
Because I... (pulls his hair) NO!!!! (does a dinosaur impression)

Phil:
Well there is a man, they call the king of Whose Line.
His soul is on fire and his mind is very fine.
He does a hoedown and he very rarely sucks,
'Cause he is one talented follicly-challenged Canuck.

Colin:
Everybody's having fun, they're singing all about me.
Lets all laugh along with them, ha ha ha hee hee.
It really is amusing, can't you all see?
Look at them, look at them. Of me, they're making a Mochrie!

Ryan:
You've got to love Colin, love him to the end.
I have to admit, that he is my best friend.
I would not lie to you, but this is no jive,
Any way you look at it, he's still got more hair than Clive.

All:
More hair than Clive!
Trivia
This is one of the few songs on, Whose Line Is It Anyway? devoted to a performer. The next would be an "Irish Drinking Song" devoted to performer and host of the American Whose Line, Drew Carey.
Ryan Stiles made a bald joke about host Clive Anderson by comparing Colin to him.