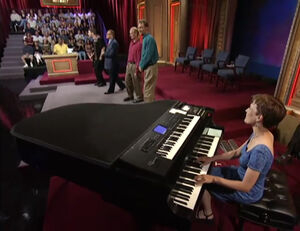 You may be looking for Christmas Hoedown (UK)
The Christmas Hoedown (US) is an edition of the Hoedown game from the American version of Whose Line. It was performed in Episode 2-09 by Brad Sherwood, Drew Carey, Colin Mochrie and Ryan Stiles.
LYRICS
Brad:
I look forward to Christmas each and every day,
But this year I got no presents and I don't know what to say.
I guess that old Santa Claus was nothing but a liar
and there was a funny smell when I lit the fire.

Drew:
Christmas is a holiday that I really hate.
There's nothing about it to which I can relate.
So every December 25th, I kick off my shoes,
and go down to the deli and hang out with the Jews.

Colin:
Up in the North Pole, the elves all went on strike.
Santa didn't care, he said, "Go on, take a hike."
Things were horrible that Christmas, it all just turned to poo.
As Shakespeare said, "Remember to thy own elf, be true."

Ryan:
I love when Santa goes delivers all the toys.
I love to see the smiles on all the girls and boys.
Really is a holiday, a time to pause.
Every Christmas Eve you'll find me porking Mrs. Claus.

All:
Porking Mrs. Claus!